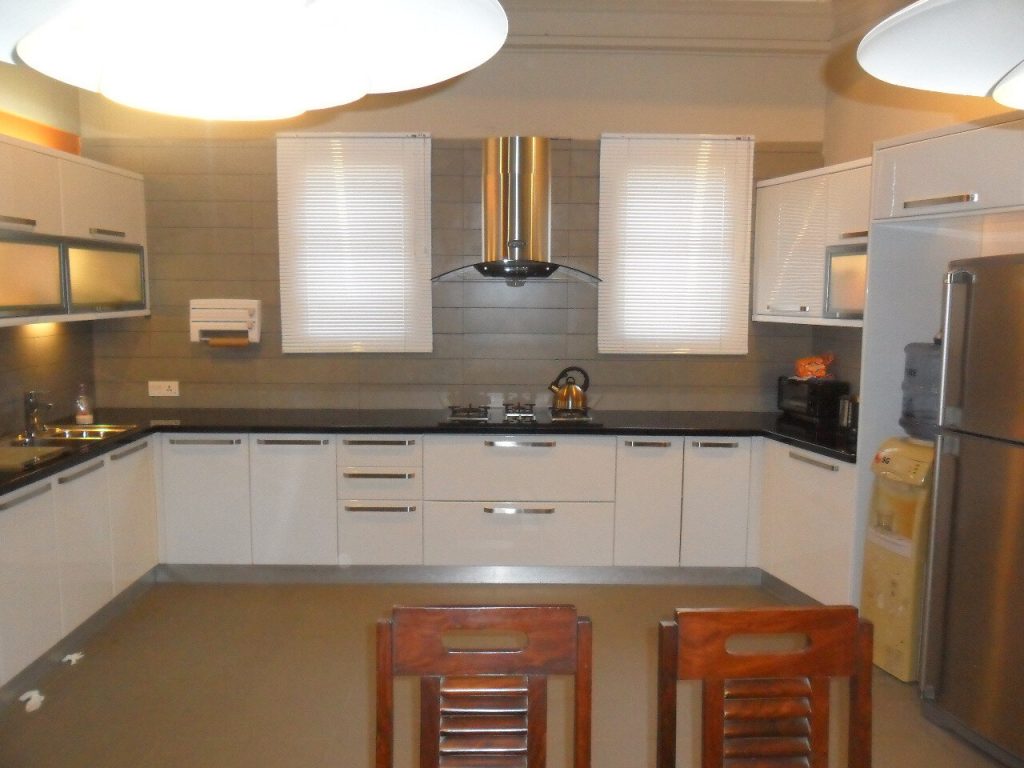 The kitchen countertop will add an aesthetic finishing touch to your kitchen. It will add an ultimate design to your kitchen. It is huge addition both in terms of cost and in its impact on the aesthetics and practical function of your kitchen. A well-chosen countertop makes your kitchen more useful and easier to maintain, and it can also serve as an important design element of your kitchen. Kitchen shops in Karachi will give you a great many options to renovate your kitchen. The range of materials that can be used for kitchen countertops is amazingly diverse, and some materials on the list may be surprising to you. These materials have their pros and cons.
Granite slab kitchen countertop
Many types of natural stone are popular choices for a kitchen countertop, and of these, the most popular option is a countertop made from a solid slab of granite. Beginning life as a quarried slab of solid natural stone, granite countertops are fabricated to specification and installed by professional crews. Solid granite slabs make quite heavy and durable countertops. Every countertop is unique with different materials and no-seam countertops are usually easily available. This kind of countertops are manufactured by kitchens manufacturers in Karachi.
Ceramic tile kitchen countertop
Ceramic tile countertops are often made from individual clay-based tiles, that is adhered over a cement-board core. It uses thin-set mortar adhesives. They come in different sizes, according to your need. They are also available in larger sizes, which will help to minimize the number of seams and make it a lot easier to keep up with the working in the kitchen. They are trendy, less expensive, easily maintained, and installed are found in the best kitchens in Karachi. There is one drawback of ceramic tile countertop that it is prone to breakage and cracking as it is also brittle in nature.
Laminate kitchen countertop
A laminate countertop is formed from a thin layer of plastic laminate material bonded to a core of particleboard or MDF (medium-density fiberboard). They are easily available and are made by many manufacturers, including Formica and Wilsonart, and hundreds of color and style options exist. These are affordable and easily installed, they can be installed by anyone in your home. These are available in different forms, designs and patterns as made by the best kitchen companies in Karachi. There are some drawbacks of laminate countertops as well, they are considered to be too cheap and can easily be peeled off and cracked.
Marble kitchen countertop
Marble is trendy and aesthetic stone that is used for decades in the kitchen designing, like kitchen flooring, kitchen tiles and kitchen countertops as well. Although it has limitations that should be recognized in kitchen applications, marble's unique appearance and veined patterns make it one of the most attractive of all the natural stones. But marble is a relatively soft and porous stone that must be carefully and repeatedly sealed if used for kitchen countertops. Like granite, marble is available in different forms. As with granite, solid slabs are the best choice for countertops. These types of countertops are best for the renovation of the kitchen in Karachi.
These are the most trendy and astonishing countertop designs in 2021, which will add more beauty and color to your kitchen.