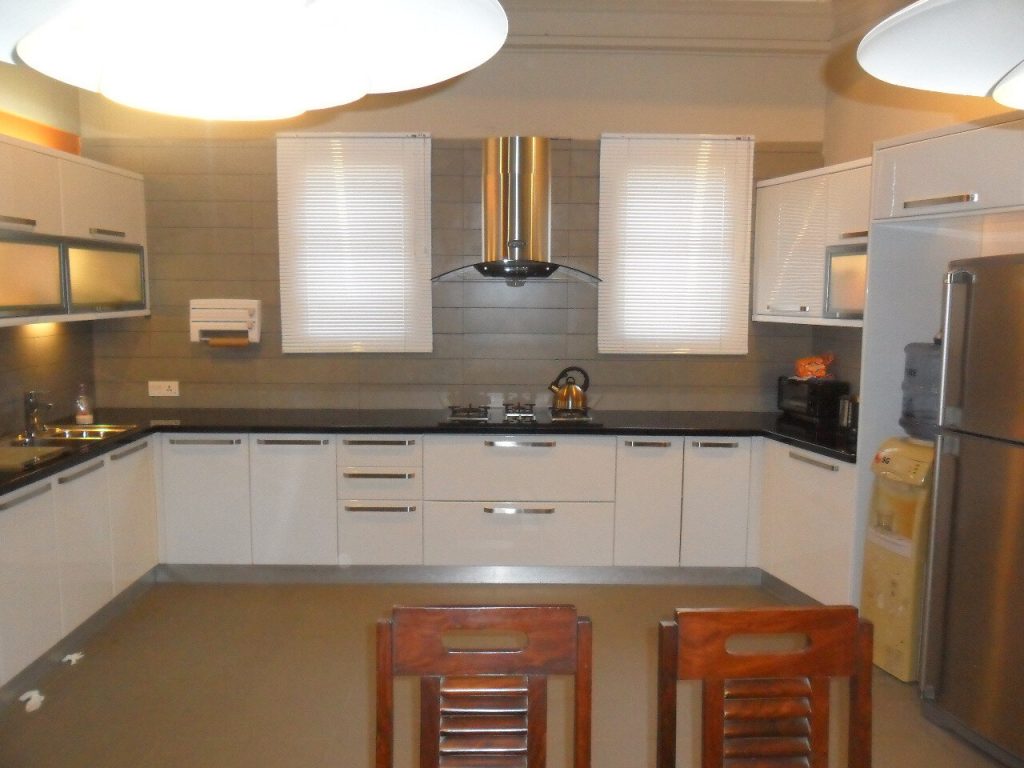 If you are planning to renovate or remodel your kitchen this year, or just refreshing your cooking place design, you will be looking for those designs which are trendy and up-to-date. These days the classic designs of kitchens like standard white or neutral space are getting old. Kitchen shops in Karachi showcase bolder, brighter and warmer colors these days. People are looking for new, cool and fresh trends in kitchen designs. So, here are the latest kitchen designs of 2021 from the best kitchen companies in Karachi, which will help you to renovate your kitchen.
Dark and wild
The classic look of the kitchen was white and neutral, but nowadays people are shifting from these old and classic colors to bolder, wilder, and darker colors. Dark colors are often overlooked as an accent color, but nowadays people are shifting to black walls, dark cabinetry, and aesthetic tiles as these colors have their own charm. Black and dark colors are becoming more lively, inviting, and luxurious according to kitchens manufacturers in Karachi. Add textured woods to your dark-themed kitchen, and you will get a rustic charm and homely charisma.
Marble kitchen marvel
Luxurious marble is getting a lot of attention these days, bringing a modern touch to the best kitchens in Karachi. Marbles are becoming the topmost innovative and versatile kitchen design, which adds to its uniqueness and beauty. Marbles are highly sustainable, durable and it had classic attributes which add to its aesthetic nature. They have the ability to withstand passing trends, which makes it a good investment. Marbles with naturally strong veining add statement value and create a textural contract between other polished surfaces, metals, and woods.
Woody texture and finishes
Hardwood flooring and woody texture is still got the attention even in 2021. The wood gives a natural and aesthetic touch to your kitchen so the use of wood is pretty much common from the start. People are getting back to the natural wood flooring, wood cabinets and wood doors in their kitchens. Different shades of brown colors of woods are highly in demand. Use subtle-grained ash, paler than oak or walnut, to pick out the warm tones in manmade stone. The use of walnut wood is seen in this year's top trend. It's rich, dark color, fine grain and natural warmth are prized by makers for its feeling of instant luxury.
Artistic kitchens
Art is becoming trending and is much in demand these days, so adding a little art to your kitchen will make it more aesthetic and modern in look. Adding different portraits, pop up arts, and abstract art to your kitchen will add more personality to it. Artistic kitchens are much in demand as they are modernistic and cool in nature. Adding a pop-up art or abstract art from kitchen supplies in Karachi to your open shelves will always bring a new lively aura to your kitchen and-its design.
These eye-catching and aesthetic kitchen designs are highly in demand these days, these designs are setting new trends and attracting a lot of people. These designs are frequently used for the renovation of a kitchen in Karachi these days.